Monthly Luncheons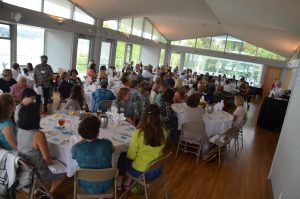 All members are invited to our General Meeting luncheons. We begin with a time to mingle, a short business meeting, and normally include a professional speaker who talks about relevant issues interesting to our members.
Our Community luncheon in March is open to the public. It is our chance to give back to the community.  A percentage of the ticket price for the luncheon as well as a percentage of the proceeds from book sales are donated to local charities.  If you are interested in joining us, please contact membership@mercerislandwomensclub.com
See below for our 2017 – 2018 schedule.  We will continue to update as details are confirmed.
There is a carpool that operates to off-island luncheon venues from the parking lot of the Presbyterian Church. If you cannot drive or need a ride, please contact Nancy LaVallee for more information about the carpool.
2017 – 2018 Luncheon Schedule
Date
Location
Speaker
Topic
Tuesday,  Sept 12, 2017
 MI Beach Club
No Speaker
 Activity Fair
Monday, Oct 16, 2017
Seattle Tennis Club
Sivie Suckerman, LMHC
Mindfulness and compassion in our community
Tuesday, Dec 12, 2017
Glendale Country Club (Bellevue)
Celebrating Winter in the Pacific Northwest
Tuesday, Feb 13, 2018
 Women's University Club (Seattle)
 Jamie Osborne
 Inspiring story of catastrophic injury recovery
Tuesday, Mar 13, 2018
Covenant Shores (Mercer Island)
 Elise Hooper
 "The Other Alcott" – Island Books will be selling books at the lunch.

This is a Fundraising Luncheon and Community-Wide Event.  Non-MIWC Members may attend

Tuesday, Apr 17, 2018
 Sahalee Country Club (Sammamish)
 Peggy Timm
Realistic and Practical ways to keep your life and stuff in order
Tuesday, May 8, 2018
Seattle Yacht Club (Seattle)
 Glenna Trout
 Facial communications and "Reading Faces"