"The groundwork of all happiness is good health." – L. Hunt
Biking
Group meets up to three times a week on fair weather days to ride around the island or off the island, depending on group interest.  All levels are welcome.   Group meets year round weather permitting.   RSVP to chair for details.  Sign up and join the emails so you can plan your own ride with the group.
Golf
Get golf ready during the off-season then carpool to NLGA (Northwest Ladies Golf Association) various events from April to September. For the off-season training (Oct-March) meet for driving range practices or small group lessons at Jefferson Golf Course.
Northwest Ladies Golf Association (NLGA) organizes regular golf play for women of all skill levels. Membership ($60) is required. See NLGA website for events calendar and more.
Impromptu Winter Outdoor Adventures
Calling all cross-country skiers and snowshoers.  Weather and snow depending, we will try to have several outings up to Snoqualmie Pass for outdoor adventures during the winter months.  While this group is not for beginners, trips will be rated for difficulty and some will be easier and flatter than others.  For cross-country skiing, we will try to go to Cabin Creek and Crystal Springs Sno-Parks as well as the Snoqualmie Nordic Center.  For snowshoeing, we will plan outings to Gold Creek Pond (easy) and Hyak Lake (moderate-strenuous). No dogs please.
Walks & Hikes – Take Time to be Outdoors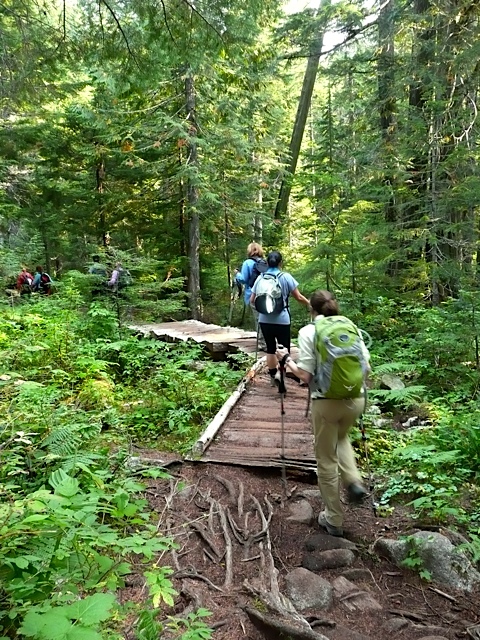 Given the weather and our schedules, outings will be planned a few days in advance. Please request to be added to our database for details. We will do our best to accurately describe the walk/hike. Ultimately, it's up to you to decide what is appropriate given your abilities. MIWC and facilitators are not responsible should you have an injury, but we'll do our best to assist you. Inclusion of men and dogs will depend on the hike/walk. Drizzle is ok, heavy rain cancels. For off Island walks/hikes, we suggest a carpool contribution of $5 per person. If you have a parking pass (USFS or Discover) please bring; most hikes require one of these 2 passes. Please RSVP. We look forward to seeing you.
Co-Chairs:  Elsbeth Wissink and Carrie Wernick Newman