"Nothing – Not a conversation, not a handshake, or even a hug – establishes friendship so forcefully as eating together."  Jonathan Safran Foer
Ethnic Out to Lunch
This group is for the adventurous eater who is not afraid to  try small eateries in hidden spots in the city.  Some of the best ethnic food is hard to find but with some research we can enjoy a delicious meal together.  Would you like to try Ethiopian, Russian, Korean or Jamaican foods? Do You have a place to recommend? Join us for lunch on the 1st Monday of the month.  Join us for lunch!
Let's Do Tea
This group meets every other month, approximately 5 times per year, beginning November 2017 to enjoy teatime at local tea houses. If you are interested in joining this group or would like more information, please contact the co-chairs.
Co-Chairs:  Carolyn Holm and Betty Laughlin
New Member Group (open to all)
This group holds a morning coffee hour and a evening happy hour/potluck once a month for prospective members, new members or members who still feel they are new! We meet at Mercer Island coffee shops and member's homes. Meeting time/location vary. Come meet new friends and learn about Mercer Island.
Out to Lunch Bunch
Meet old friends and build new friendships on the 4th Thursday of each month at an interesting restaurant in the Seattle area. This group does NOT meet July, August, November and December. Meet at noon at the restaurant or at 11:30 AM at the Presbyterian Church parking lot to carpool.
Chair:  Margaret Wiecks (would like to pass to a new chair)
Salad and Socializing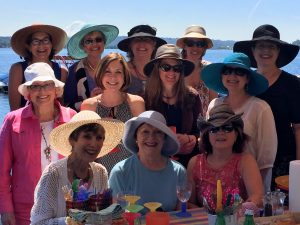 Small groups meet once a month for lunch in one another's homes. Bring a salad to share. This is a wonderful way to get to know more club members. Groups pick their meeting day.
Co-Chairs:  Kick-Off Event – Bonnie Sorba and Elizabeth Perozek
Group Scheduler – Mandy Chivers